There are only a few things left that you can't buy on the Internet. Currently, the Nobel Prize chocolate coin is one of them.
It was on my visit to Stockholm, Sweden that I discovered them. I was there for a working meeting with various delegates from across the world, and had no plans to visit the Nobel Prize Museum, located in the old Stock Exchange building in Gamla Stan, Stockholm's old town.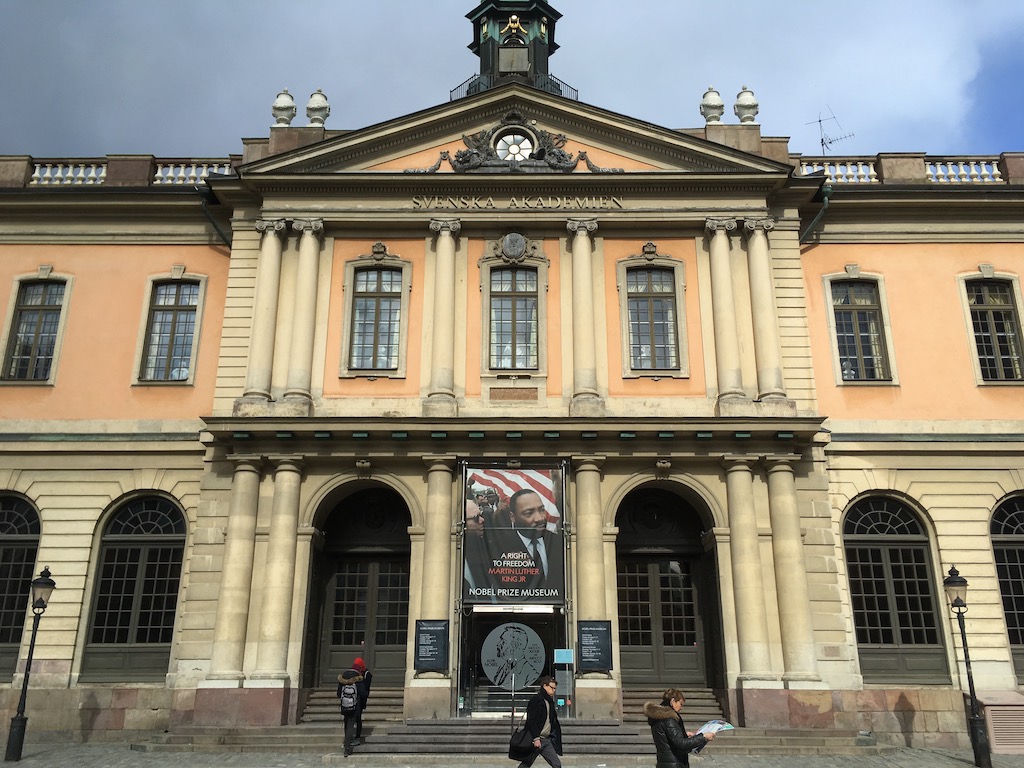 But on the first day of the meeting, I heard an intriguing tale. I was chatting with a delegate from Italy whom I know well, and who has a Ph.D. in nuclear physics. She informed me that there was such a thing as a chocolate Nobel medal — a large chocolate coin in the shape of the Nobel Prize — and she was on a mission to acquire some before leaving Stockholm. She planned to give them to her young niece, who she hoped to encourage to study science.
And how did my Italian friend learn of these? From the Japanese delegation. Apparently, for some curious reason, the chocolate Nobel medal is a "thing" in Japan, and one of the delegates was so enthusiastic about having an opportunity to acquire a few that he told the Italian delegate all about it.
Many of us at this meeting were scientists with Ph.D.s — in other words, we recognize the perfect geek gift when we see it. This is a sensibility innate to all science Ph.D.s, and it knows no borders. Now I too was on a mission.
We knew that they were sold at the Nobel Museum gift shop. But it isn't open very late, and our meetings ran all day. As the days wore on, some tried the local gift shops, and even the Stockholm City Hall (where the Nobel banquet is held). No luck.
Finally, my Italian friend was about to leave the next morning. She said she would try the airport gift shops as a last resort. But I had an extra day, so I was definitely going to the museum, and I didn't want her to despair. I picked up some for her, and for myself, and some extra in case the Japan delegation had not found them.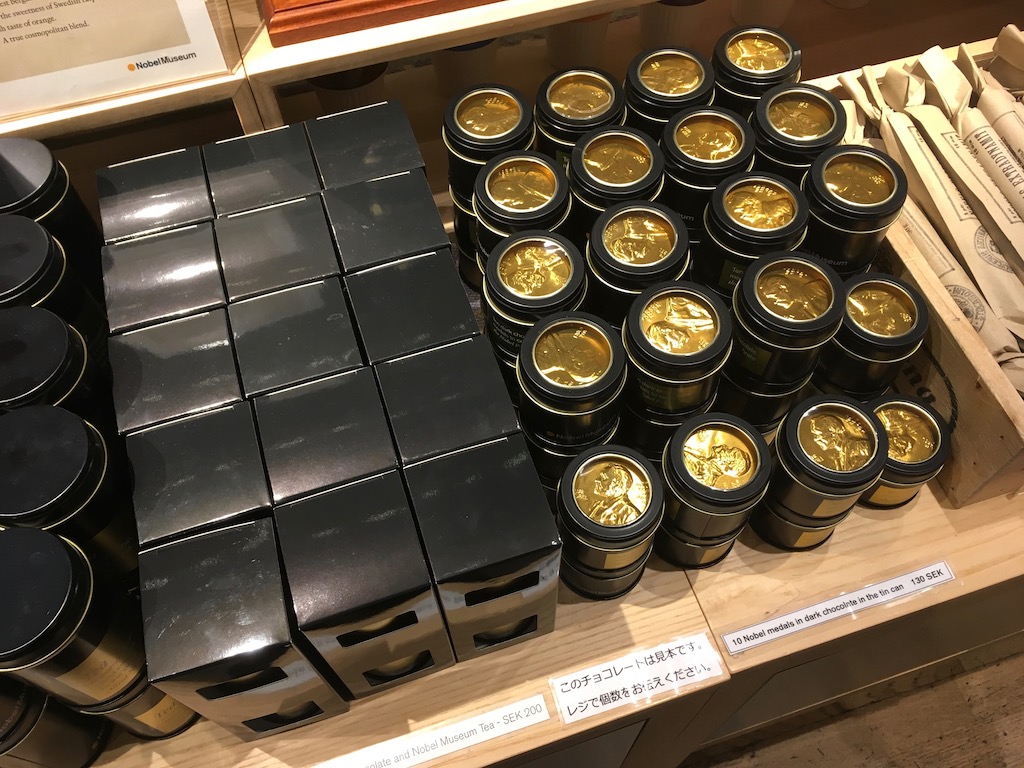 We all met again about a month later, this time in Geneva. My time there was short, but I did manage to give her the medals, and she was delighted, as any science nerd would be. She insisted on paying for them, but in a feeble attempt to designate them a personal gift, I said that I felt that exchanges of Nobel medals should only be transacted in Swedish currency. So she paid me in expired Swedish krona, and we were both satisfied.
In the meantime, by grace of various transits, layovers and side trips, these medals had traveled with me from Stockholm, through Amsterdam, Paris, Detroit, Frankfurt, Lyon, and finally Geneva. Her niece's medals were well-traveled even before they reached Italy.
But the Japan delegation left earlier than I expected, and I was neither able to ask them if they had found any at the City Hall as they had hoped, nor offer them my extra medals, if not. The exchange below, between a user of Trip Advisor in Japan and the Stockholm City Hall, confirms what my colleagues probably discovered independently: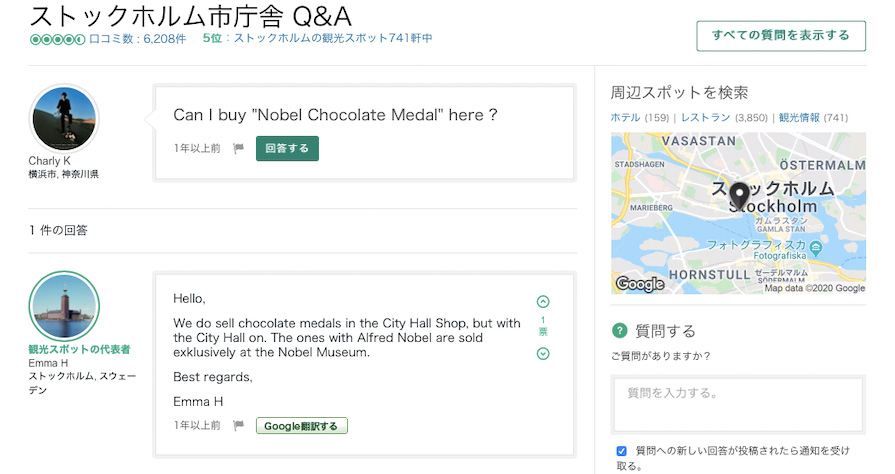 ---
You cannot have it
The chocolate Nobel medal is one of those increasingly rare items that cannot, at the time of this writing, be purchased on the Internet. Anywhere.
The website of the Nobel Prize Museum gift shop does not provide online shopping, but "only in-store sales." But more interestingly, I could not find them on eBay, Amazon, or anywhere else either. Maybe at 130 SEK per can of 10 medals (about $14 US), there is not enough profit margin to encourage some enterprising frequent traveler, or even a Stockholm resident, to stock up at the museum and resell them online. But someone really should try, if only as a public service to the nerds of the world.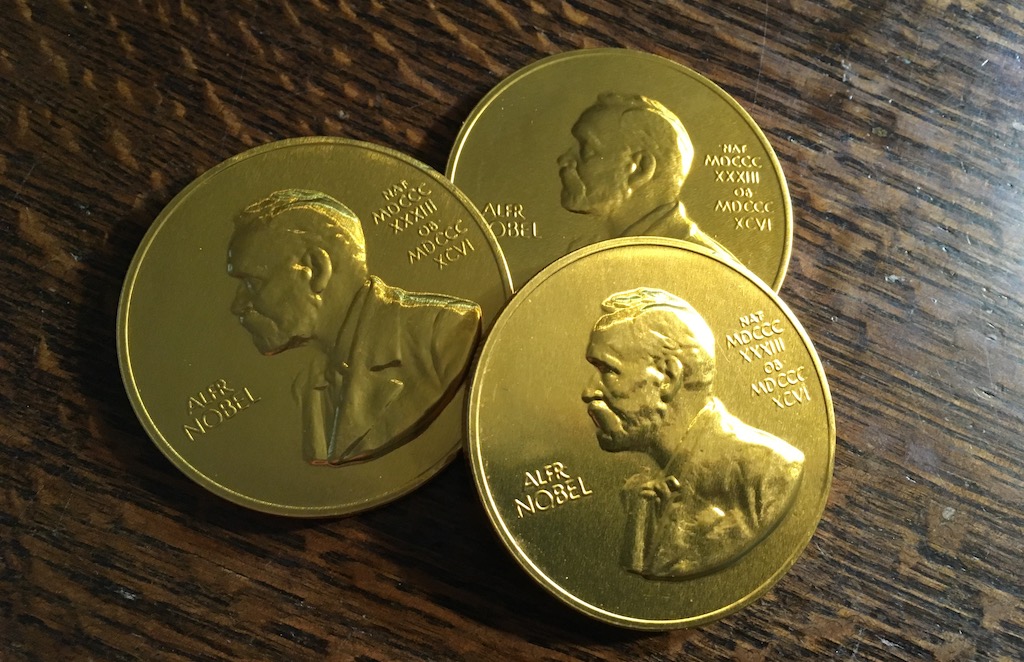 And why are these so popular in Japan, that a special Japanese-language sign needed to be taped to the display? I have not yet had a chance to ask the Japan delegation. But somewhere online, at a link I can no longer locate, I read that a recent laureate from Japan had purchased thousands of the chocolate medals and proceeded to give them to students across Japan to inspire them to study science. (It might have been Professor Yoshinori Ohsumi, the 2016 winner of the Nobel Prize in Physiology or Medicine, who is known, at least, to have purchased some). Some combination of their rarity, cachet, and geek chic seem to make them excellent motivational tools for academic pursuits.
Not much is known about the quality of the chocolate. Judging from other stories found online and my own experience, their recipients often consider them far too special to eat.
---
UPDATE – June 2021: Even after reopening after more than a year of closure due to the pandemic (during which time chocolate Nobel medals must have been impossible to get), the Nobel Prize Museum is still not selling products online. But now, the Nobel Peace Center gift shop has made them available for purchase online**.
**UPDATE – July 2021: The site has been updated to say: "NB! CAN ONLY BE PURCHASED AND SHIPPED IN NORWAY, NOT INTERNATIONALLY." So yes, receiving the chocolate Nobel prize is still almost as exclusive an honor as receiving the real one… which, in this time of instant online gratification, somehow makes me feel very happy.