There is something tragic about a set of personal photos that are abandoned by those who loved them, and are later found offering themselves to a stranger for a low price. For a treasured album to be found anywhere but in the care of a family member suggests that, perhaps, something did not go according to plan.
Recently, in a short article in the London Review of Books, it was pointed out that treasured items often lose their original stories, and take on new ones:
"Objects from the past, if they survive, lose and accrue meaning over time. Their original human associations and contexts, their given purposes and original attractions, dissolve and are replaced by others, which might be replaced again, and again, and again. Eventually, some of these objects become 'historical.' … Other objects don't go through this process: they are still trapped in time; … they have lost their old meanings, and are waiting for new ones."

– Tom Crewe, London Review of Books, 12 August 2021.
The author cites as an example a few Victorian coins he once found in an old velvet purse, while working for an auction house — "the loose change left over from a day populated by the long dead." Much like the coins collected by Danny deVito's character in the film Throw Momma From the Train, these coins might have been kept as a keepsake of a cherished event, in which change was received, possibly in the company of a loved one. If those coins once possessed such a meaning, it was a meaning known only to that person, and has now been irretrievably lost.
The last stop on the Short Line
Coins have intrinsic value, which hastens their return to society and their recapture of a respectable anonymity. But I have always wondered what sorts of circumstances can lead to family photos becoming available on the open market. I have often perused stacks of old photos at places like the old Treasure Mart in Ann Arbor, and at other thrift stores, wondering what sort of callous relatives would claim the china cabinet and the coin collection, but allow their family history to be picked up for cheap by an eBay Power Seller.
Of course, the picture is not always quite that clear. Life is an unsolicited gift, and it does not come with any guarantee that we will arrive at its terminus with a successor to receive the items we have collected. Perhaps the people who leave such things have succeeded at outliving all of their relatives, or chose not to have children, or their children are estranged, and their younger relatives oblivious. Or more simply, circumstances or long distances may have prevented the estate from being properly sorted and settled by those who would have dearly wished to do so. Their baggage languishes unclaimed on the carousel, endlessly circling until it finds a new destination.
Lost and found
I came into such a lost item more than a decade ago, while a graduate student in Seattle, Washington, where I had developed an interest in an obscure World's Fair that was held in that city in the mystical year of 1909.
The Alaska-Yukon-Pacific Exposition was held on the grounds of the University of Washington in the summer of 1909. This was a time when Seattle was a rapidly growing metropolis, fondly remembering its lucrative adventure in provisioning the prospectors of the Yukon in the 1890s, and looking forward to profiting similarly from the development of the last frontier – Alaska.
Lake Washington, the right parenthesis to Puget Sound as the natural limit of Seattle's growth, was twelve feet higher than when I knew it, not having yet submitted to the hydrological engineers who transformed the low-lying edge of the lakebed into lakefront property. On its shores, the University of Washington had just had its grounds redesigned by the Olmsted Brothers to host the fair that was to celebrate all of this progress.
By all accounts, the fair was successful. The university duly inherited a few of its ornate buildings, and by the time I became a student there, all was long forgotten.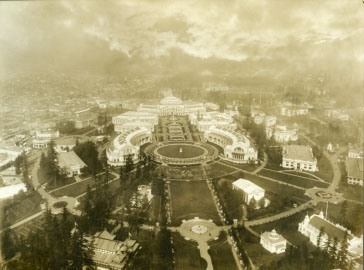 On the occasional rainy day, I would take a shortcut to classes through the basement of Suzzallo library. At that time, the long basement hallway was decorated with a large exhibit of archival photos from the A-Y-P. They captivated me, helping me to reimagine the drab, Brutalist campus as the fanciful, Art Nouveau fairyland that it briefly had been, its memory still strong enough to make me frequently late for class. I began a daily habit of trolling eBay for memorabilia from this obscure event.
An old album
One of my purchases was a photo album, described by the seller as having a number of photos of the Exposition, each about 3-1/2 inches square. As a portal into history, tourist photos have always interested me, because they might show obscure scenes that perhaps were never photographed before. I did not expect to win the bidding, because albums like these, with tangible historical material, often went for triple digits and that was more than I was willing to pay. But it must have been a slow day on eBay, because I won the bid for something like ten dollars.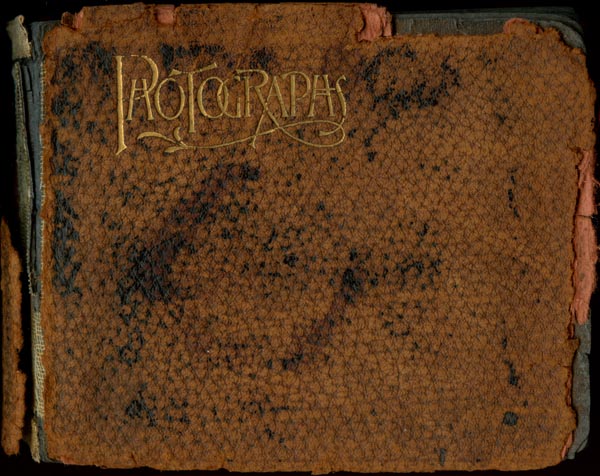 Librarian's holiday
Once it was in my hands, I found that this album told of much more than the visit to the A-Y-P that had given it market value. For one, its owner had traveled all the way from New York to get there, and took pictures along the way and back.
There were also several sequences of photos taken in the years afterward, indicating that the owner of the album was a woman, and a librarian, employed by the Brooklyn Public Library. The later portion of the album is entirely devoted to some of her time as a librarian, showing her coworkers, some scenes from the neighborhood, and some interiors of the library. Refreshingly, the pages are not plastered with dozens of photos of her offspring or her relatives. It suggests that she had a confident identity as an individual, drawing much of her social sustenance from her work and her friends, at least during this part of her life. Many of us can identify with that.
Pulled from the stacks
But not long after it was vaulted to my attention via eBay, earning it some curious attention from me for a time, this album began another long wait, in a forgotten box in my closet. Now, rather than assigning it to the unclaimed baggage of my own distant future, I would like to give it some more attention.
I still feel a bit hesitant to indulge the assumption that the absence of their original owner gives me the right to simply appropriate these photos for my own use, as the topic of a blog post. They belonged to a person whom I never met, to whom the meanings of the events they depict were personal, and are now irretrievable. But I will take the cue of the writer I quoted above, and treat this object with due respect, and give it an opportunity to acquire a new meaning.
Today, please join me in taking a close look at the first sequence of 38 photos, which details the trip to and from Seattle. It is titled, "To and from Alaska-Yukon-Pacific Exposition, Seattle 1909." This will take us about a third of the way through the album. In a subsequent article, I go on to examine the other photos that she has brought to us, taken in Brooklyn.
---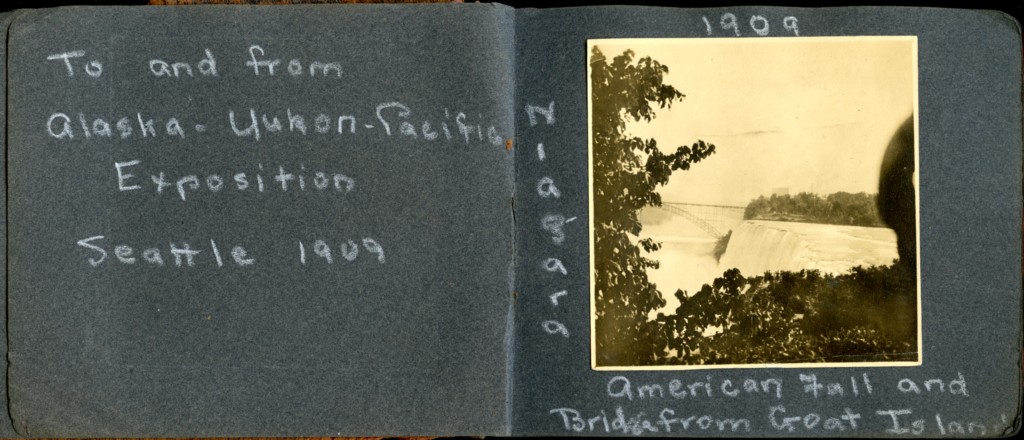 In 1909, traveling from New York to Seattle was a long process. It entailed several days at least, for which one could of course book a sleeper car, but just as likely, one could stop off each evening at a city on the way, and get a room at a hotel for the night. And why not, if there are sights to see along the way? Traveling could be a leisurely affair in ways that are not really possible today.
If one was to ride a train from New York to the west coast, one would certainly have an opportunity to see Niagara Falls. We don't know if the photographer traveled alone, or with a family or group of friends. But it's safe to say that she stopped over at Niagara for at least a bit.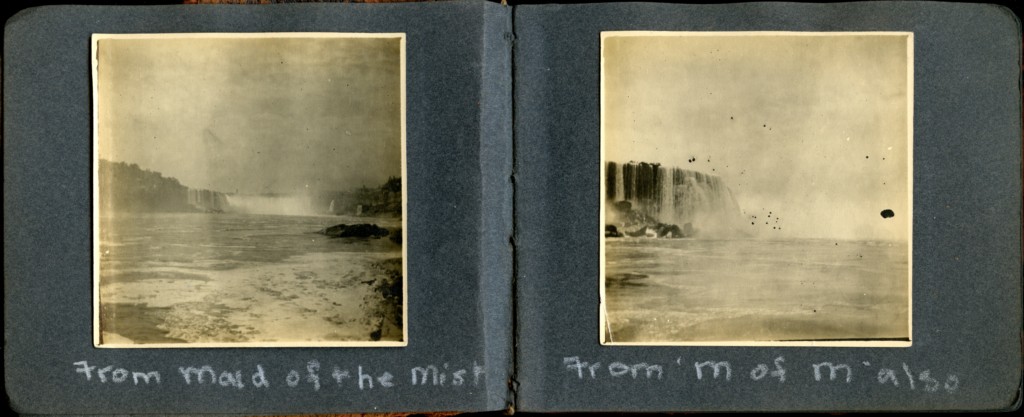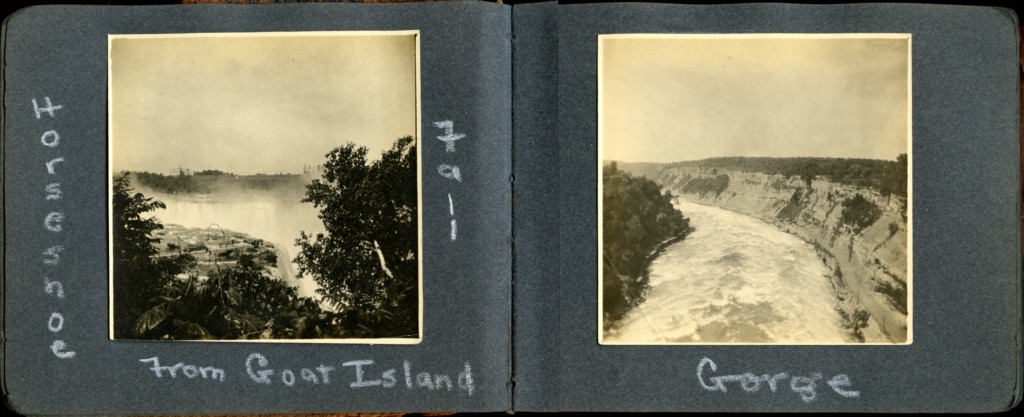 After Niagara, the Kodak does not come out again for quite a stretch — now she is in La Junta, Colorado, for a "one night stand" at Sherman House. I have encountered this term frequently in books of the period, and at that time it simply meant staying a single night in a location, as opposed to multiple nights, as part of a long trip.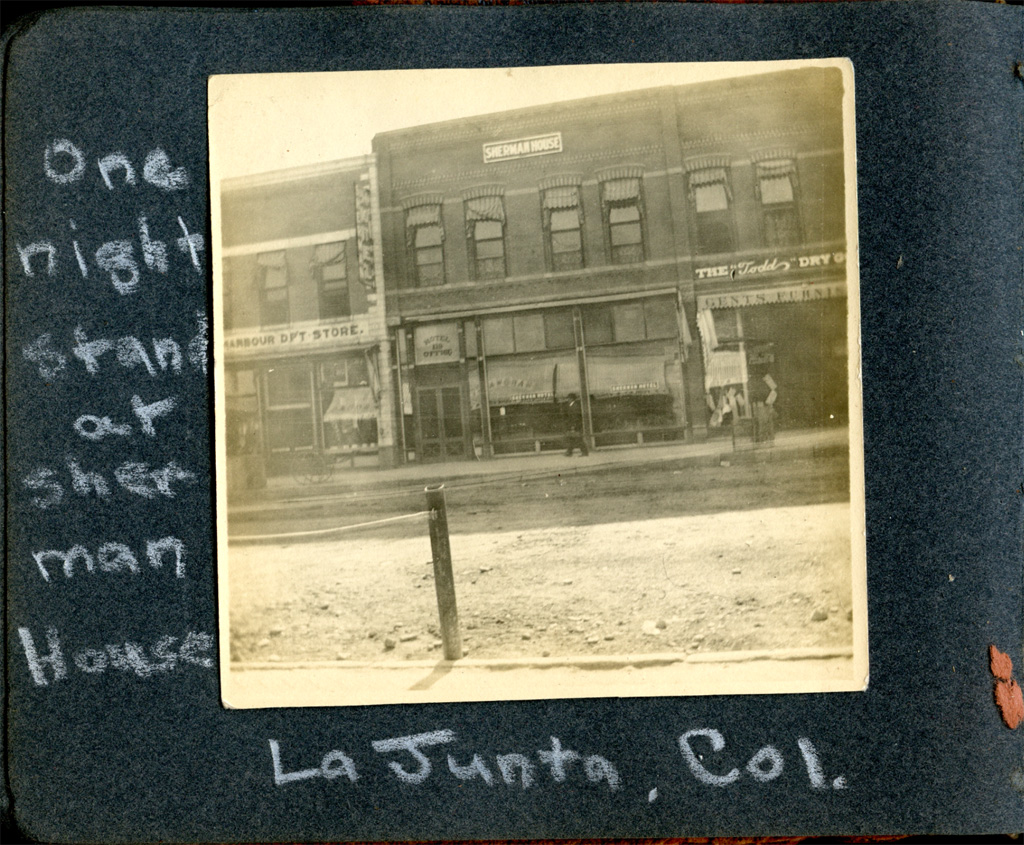 Soon, she has moved on to Colorado Springs, where a cart pulled by two horses briefly poses for a moment of unknown significance.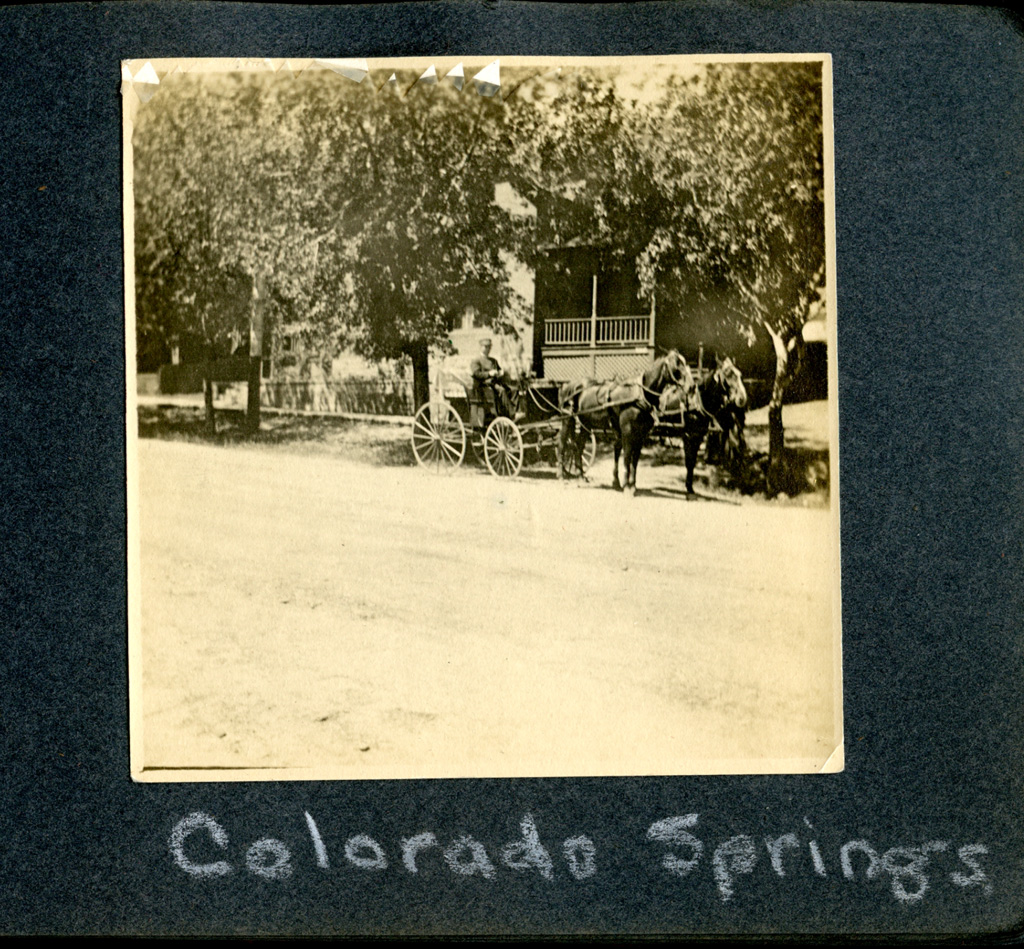 Later we see that this stay in Colorado was, apparently, quite extensive. Soon she has moved outside the city to the nearby Garden of the Gods, a park consisting of sandstone formations, and visits the Cave of the Winds.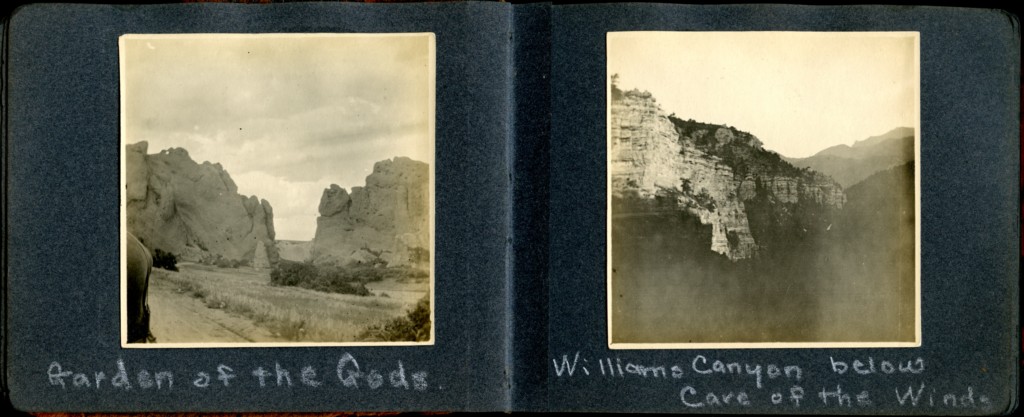 Soon after, it is a view of Bear Creek Canyon, with a rustic railing of some sort in the foreground. Perhaps this is from a viewpoint on a trail? She also visits Helen Hunt Falls, in the North Cheyenne Canyon. A bridge with a railing appears in this picture as well.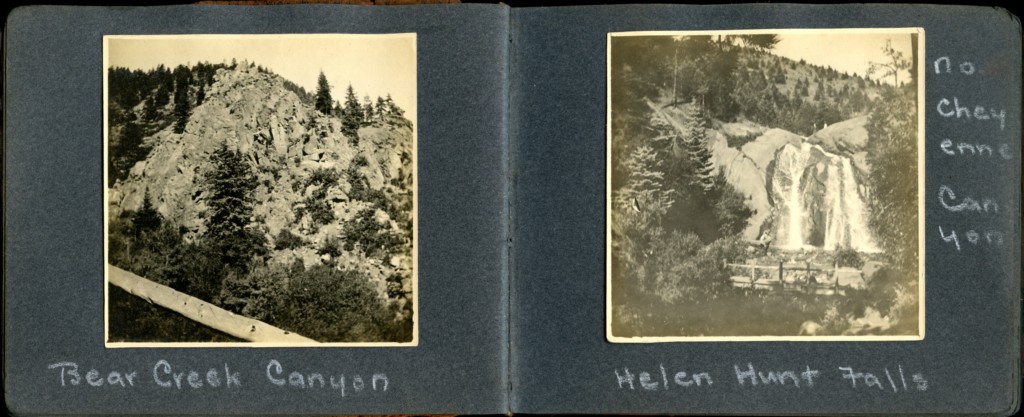 Below, we may finally be seeing the excursion party, but we cannot be certain. Under the parasol in the wagon are three gaily attired ladies. Perhaps she is one of them, or perhaps she is again behind the camera.
Could this be the same wagon that was pictured in Colorado Springs photo? Maybe. Helen Hunt Falls is not far from the city, so it seems a carriage could make the trip. But the front wheels of this carriage seem bigger than the one we saw before.
The ladies seem to have encountered some "Broncho boys" in the canyon, who pose for two photos with their burros. Or are they donkeys?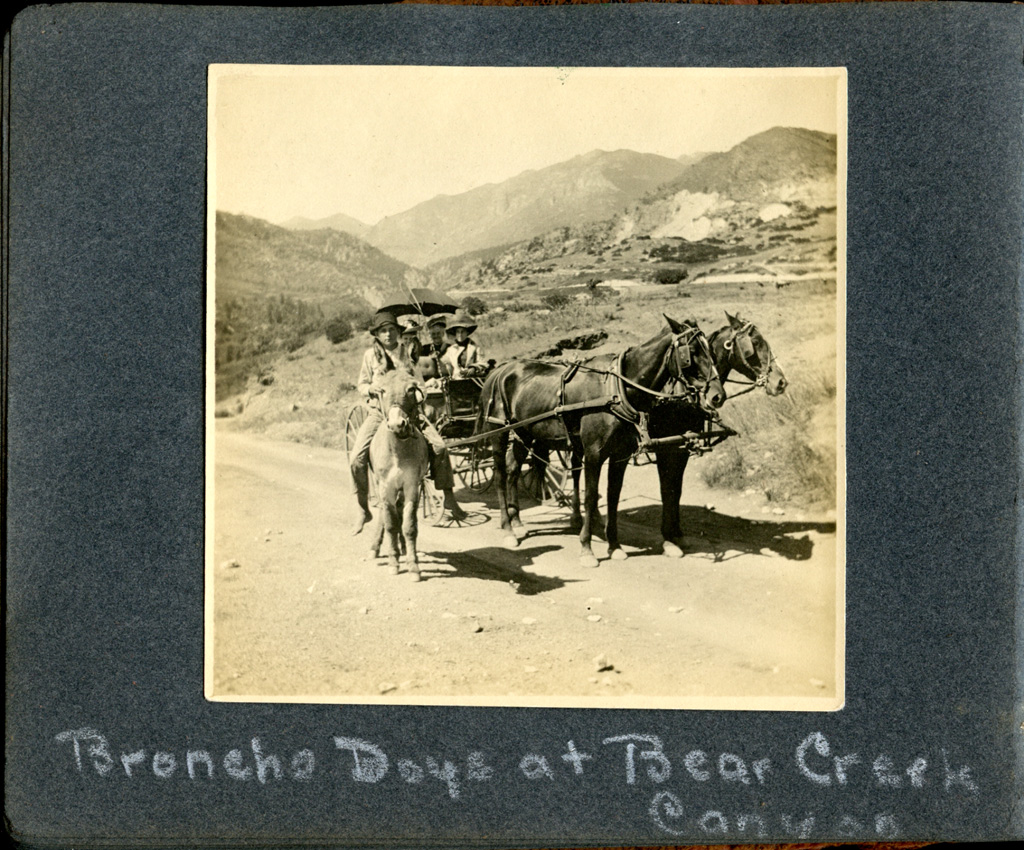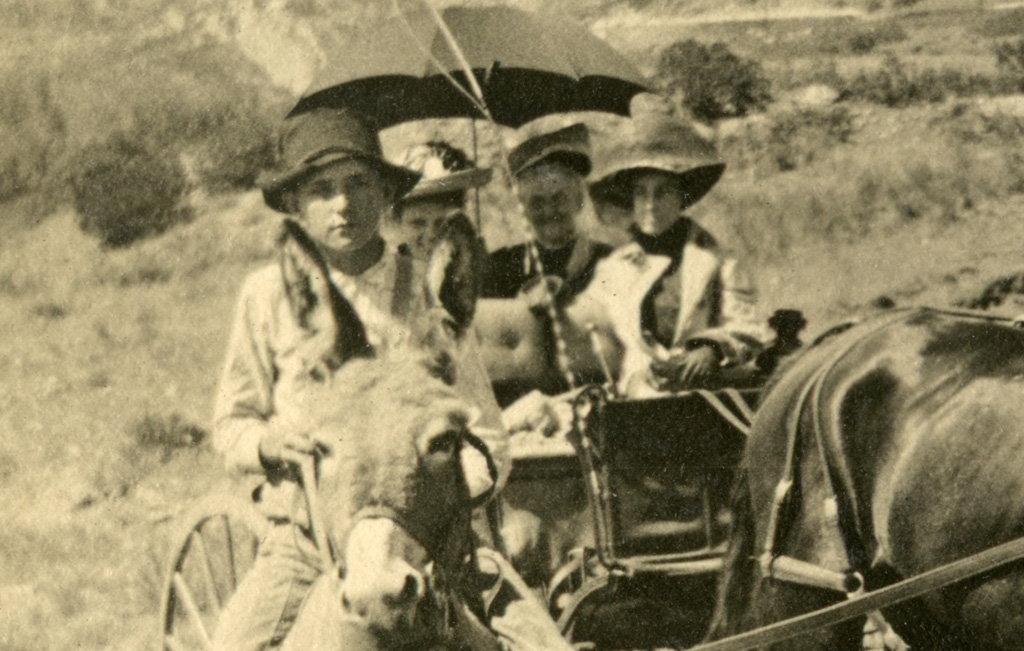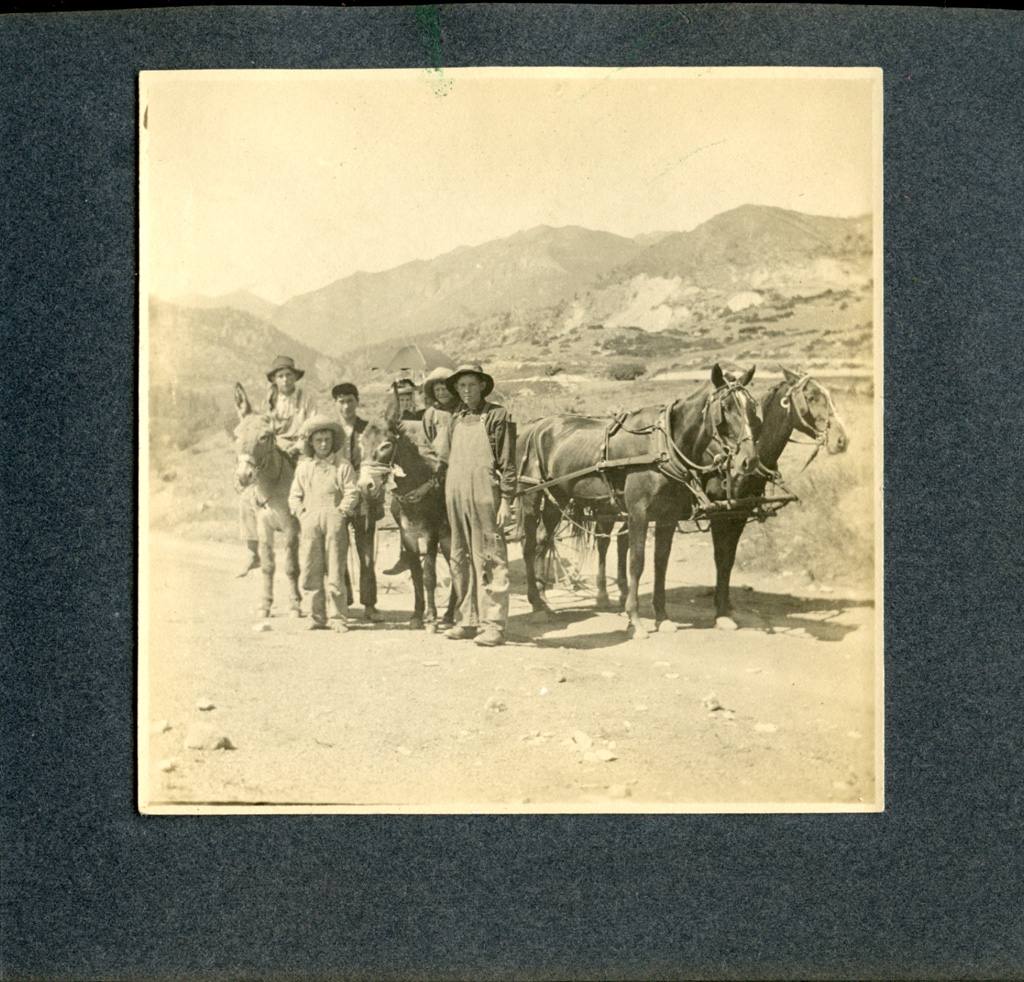 The following four images were likely taken from a train, on the "C.C.S.L." which I gather to be the Cripple Creek Short Line. Back when railroads went practically everywhere, a short-line railroad was usually a spur that led to a specific place of interest. You might remember the "Short Line" railroad from the board game, Monopoly. Back in 1930 when Monopoly was invented, the term would be familiar to most, but not to us today.
A hand grasps the railing, suggesting an open observation car or an open coach window. Many of the photos in this album are a bit blurred, and we can often see telegraph wires somewhere in the upper edge of the frame. They were very likely taken as the train passed through an interesting scene.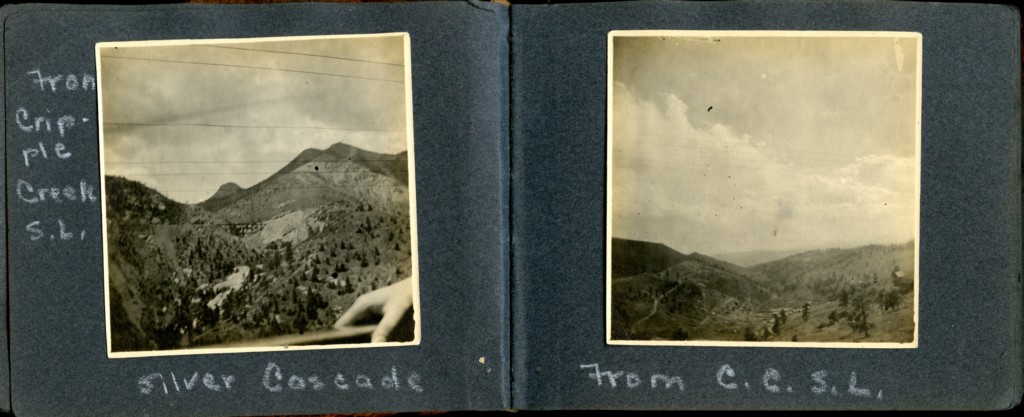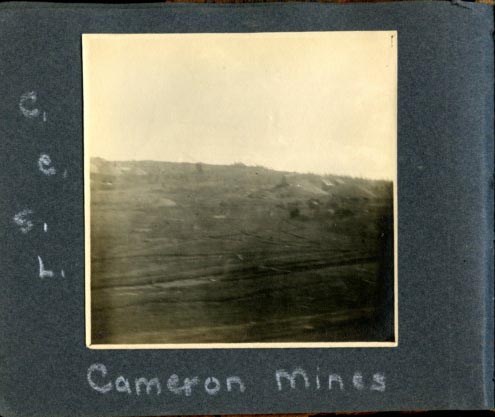 This area of Colorado was, and still is to some extent, a busy mining area, for everything from gold to uranium. To the left is a blurred shot of a landscape identified as Cameron Mines. This was apparently a well-known operation in the area of Colorado Springs.
Below is a snapshot of the town of Goldfield, likely also taken from the train. Today, Goldfield is something of a ghost town. From the looks of it, it might have been then, too. By the early 1900s, much of the sheen had already worn off the mining boomtowns of the late 1800s. Its status as a recently abandoned town might help explain why the photographer thought it interesting enough to use a valuable frame of her film to capture it while speeding by. The boardwalk and picket fence certainly seem to be well maintained, though.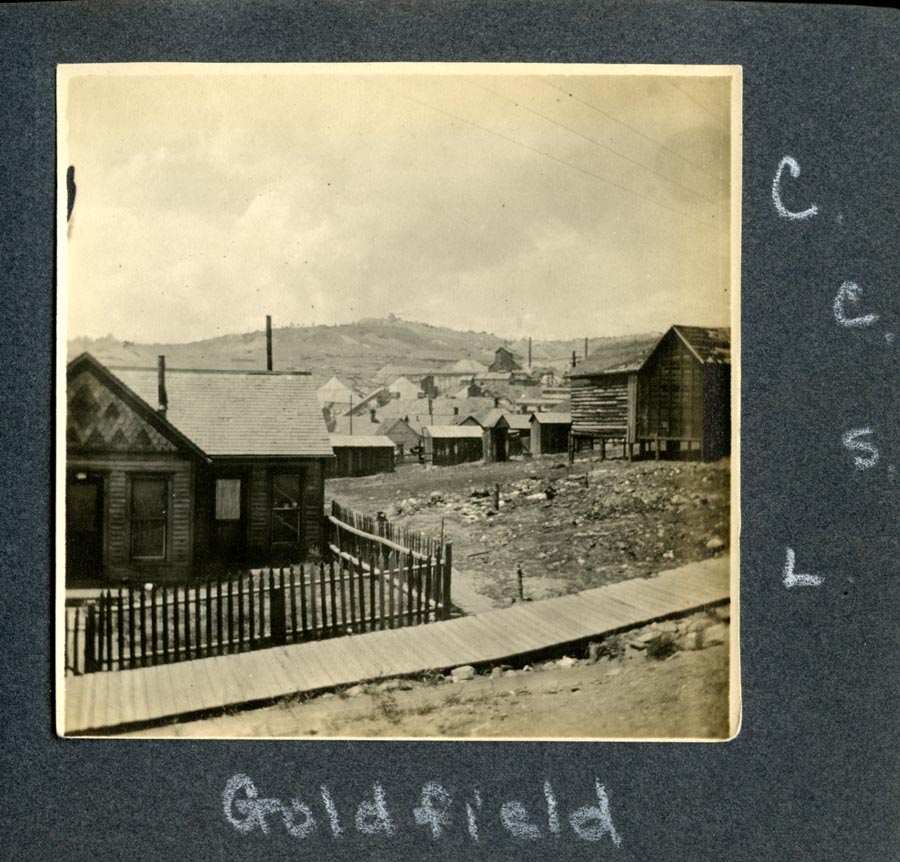 Now she has left the train for a stop at Cripple Creek, long enough to snap a picture on Main Street.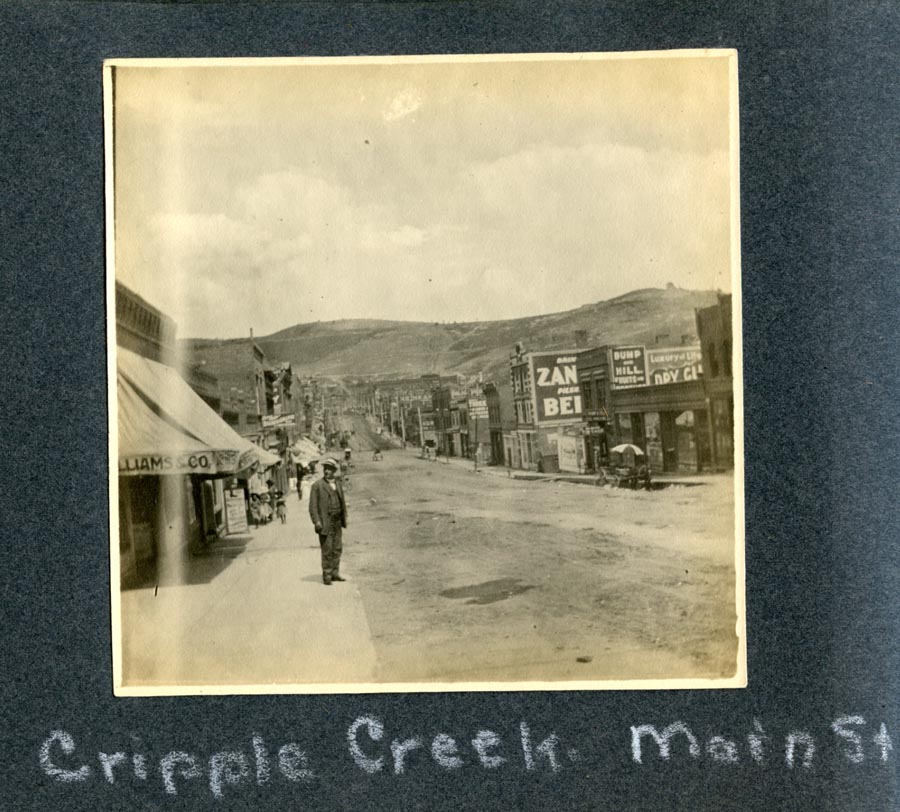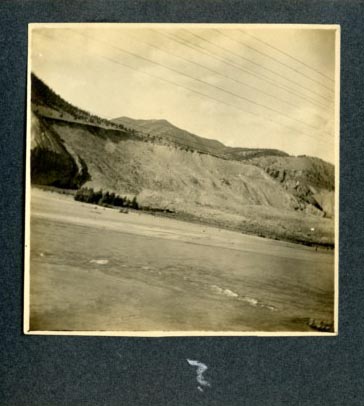 After that, it's back on the train for another series of moving pictures. It's hard to say if these were taken on the ride back on the short line, or a later part of the trip after she left the area of Colorado Springs. By the time the pictures were developed and returned to her, which would have been some time after the trip was completed, she seems to have forgotten exactly where the next two were taken.
But on the third she writes, "Sunrise on Sangre de Cristo Mts." That sunrise must have been memorable. By now the train has moved along quite a bit — because this mountain range is well south of Colorado Springs. She seems to be on the east side of the range, because the peaks are illuminated, not backlit.
But wait – south? If she's going to Seattle, she seems to be heading in the wrong direction! Maybe once having reached Colorado, on the line she had a ticket on, this was the only way out. At some point she must have turned to the northwest, but the pictures fall silent for the rest of the ride.
Below, she has finally reached the destination: Seattle. She snaps a picture of what is presumably the house where she and her traveling party (if any) stayed.
Very surprisingly, 4110 Whitman still exists, and is now called Caracol Apartments. It looks quite the same, except the pyramidal roof has been replaced by a gable to accommodate more units upstairs, and it seems to extend further to the rear than it did at the time. The neighborhood is also lush with trees, compared to then. A real estate listing for this address indicates that it was built in 1909. She was staying in a brand new building. A lot of buildings were built in Seattle in anticipation of the Exposition, including the one I lived in, to help house the boom of visitors.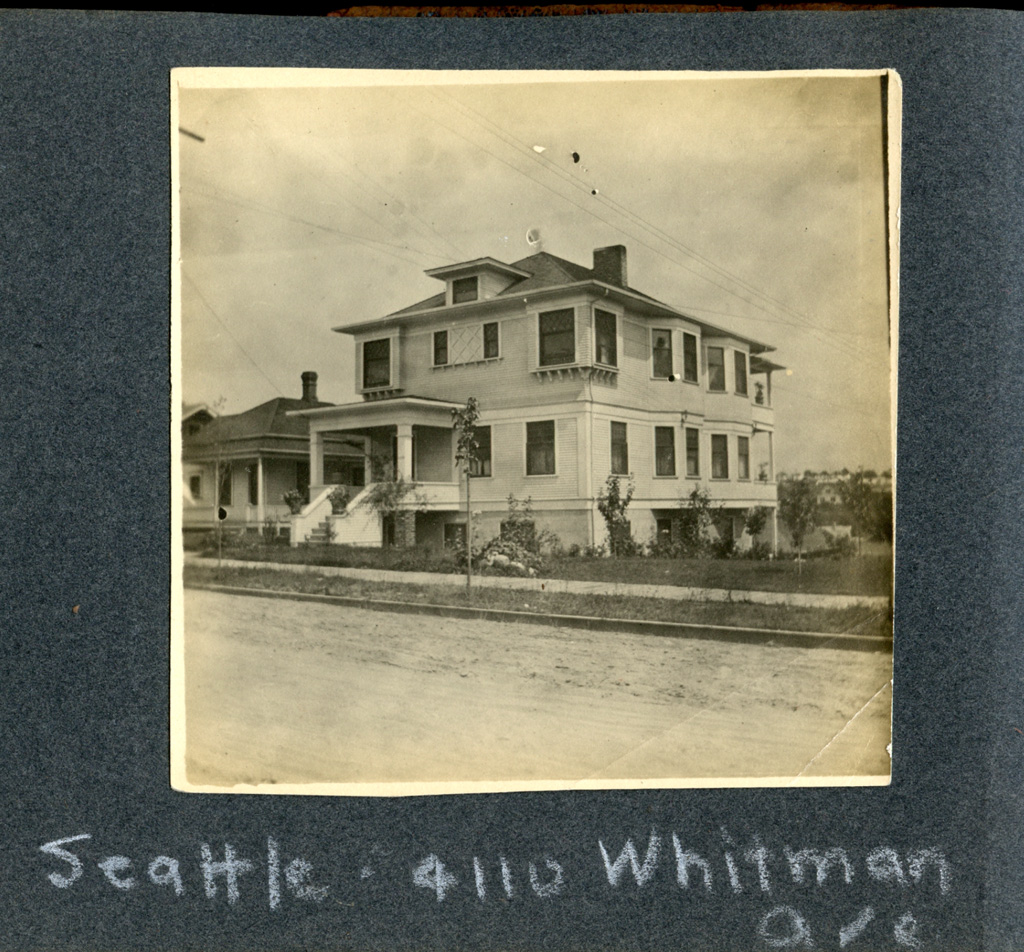 Interestingly, she not only took a picture of the house, but also of the view from the rear porch — which would have faced the Exposition grounds, a couple of miles away. It is amazing that the city of trees that I knew Seattle to be could have been so treeless at the time, that you could see for two miles — and lots and lots of vacant lots. I'm not sure I can see any of the buildings of the Exposition, but there seems to be an encampment of white tents near the center. I think there was an army encampment set up in association with the fair, but I'm not sure where.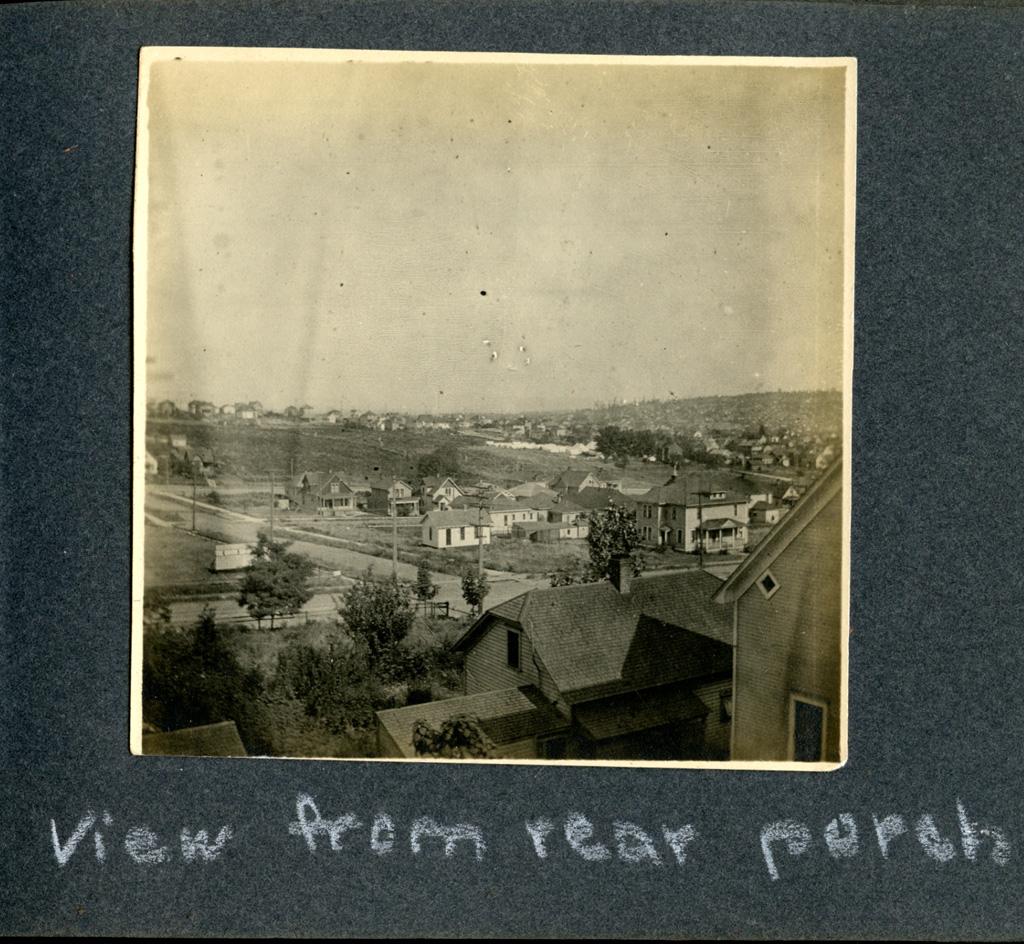 Now she's finally made it into the gates of the A-Y-P. She recorded the experience with restraint, in exactly six images (can you imagine how many hundreds of pictures you would have snapped with your iPhone?) They are all fairly standard views of the more impressive of the buildings, and I have seen these scenes repeated from various angles in hundreds of postcards and tourist snapshots. But, she was definitely there.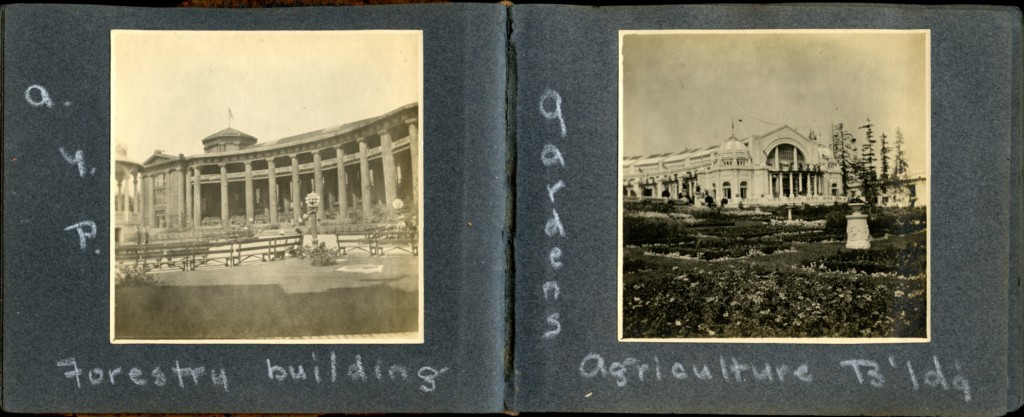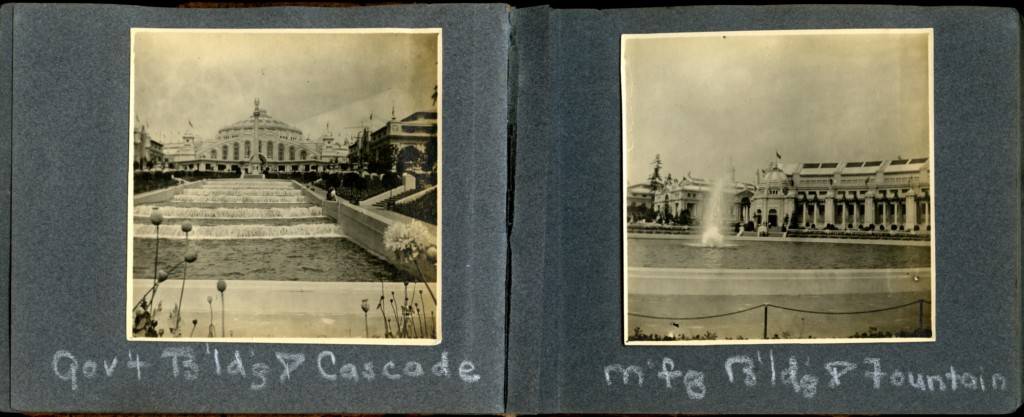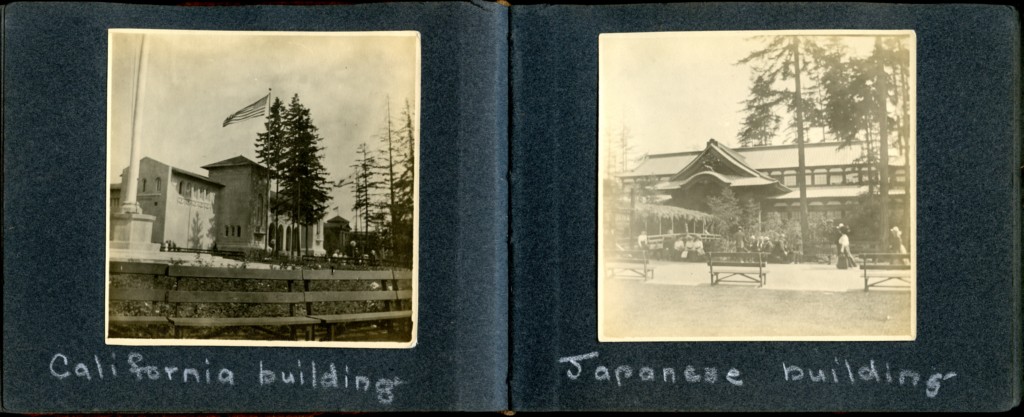 A trip to Seattle would not be complete without a trip downtown. In one of the frames below, we see the famous totem pole in what we now call Pioneer Square. This area today is shaded by large sycamores, which make it hard to imagine the bareness of the intersection of First and Yesler as it existed then.
In the next frame, she is heading back — but not by the same route! She is taking the northerly route, through Canada.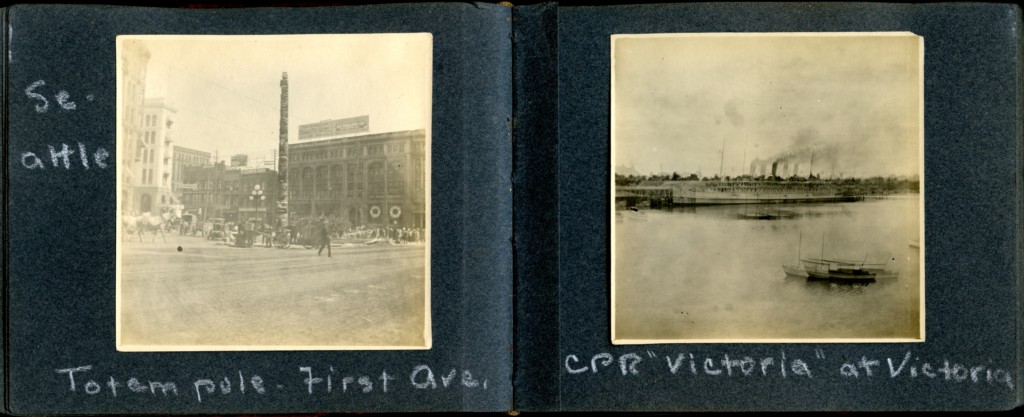 ---
This was the turnaround point of the trip. By choosing to return via Victoria, she was not taking the easy way — Victoria is on on Vancouver Island, which cannot be reached by rail. This likely means that she traveled by steamer up Puget Sound, across the Strait of Juan de Fuca (Salish Sea), and into the port of Victoria, where she took a slightly double-exposed photo of the Canadian Pacific Railway steamship, "Victoria". Perhaps the cruise was part of her train ticket through Canada? Canadian Pacific Railway did operate a line of steamships that plied up and down the coast. The Victoria might have been her ship.
We see the Parliament buildings in Victoria from an odd angle, possibly from a train or streetcar again. Next, she has made it to Banff National Park, and the Grandview Hotel. This seems to be somewhere near the upper hot springs at Banff, but I'm not certain. It certainly had some amazing views.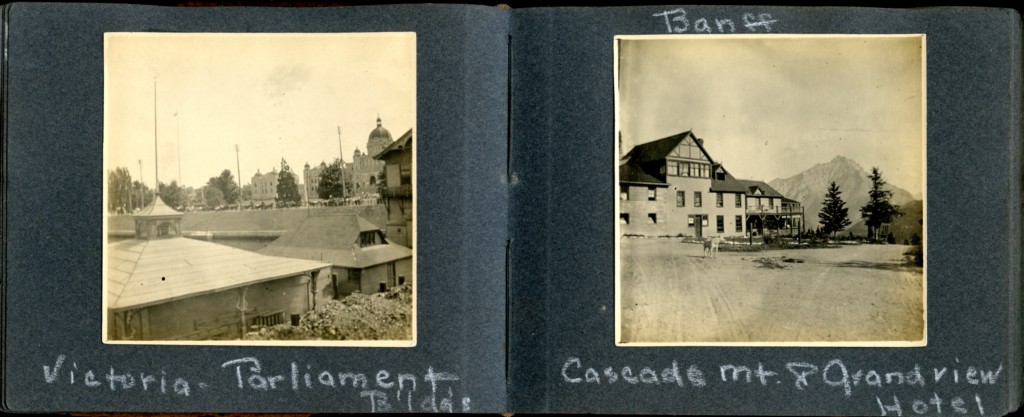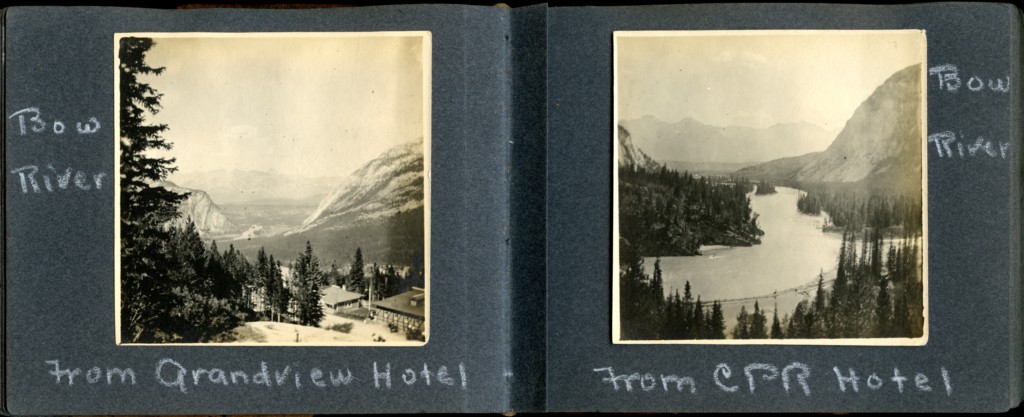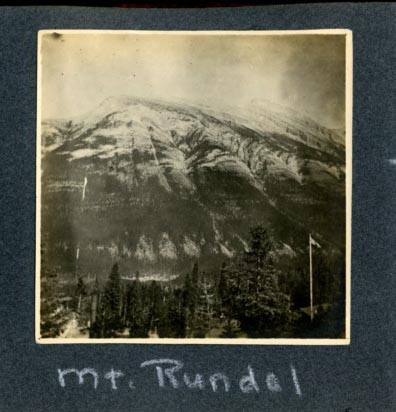 In the photo to the right, Mt. Rundle is now seen, with a flag in the foreground belonging to an unpictured habitation of some sort. Again, this is likely taken from a train, although it very well could be from a viewpoint on a trail. This is still in Banff. She has spelled the name as "Rundel", but everything I find indicates that it is spelled Rundle.
Waiting for the train
For some reason I am particularly intrigued by the next photo, taken in an idle moment on the train platform at Field, British Columbia, still in Banff. I love candid scenes, and I think this is the best of her photos.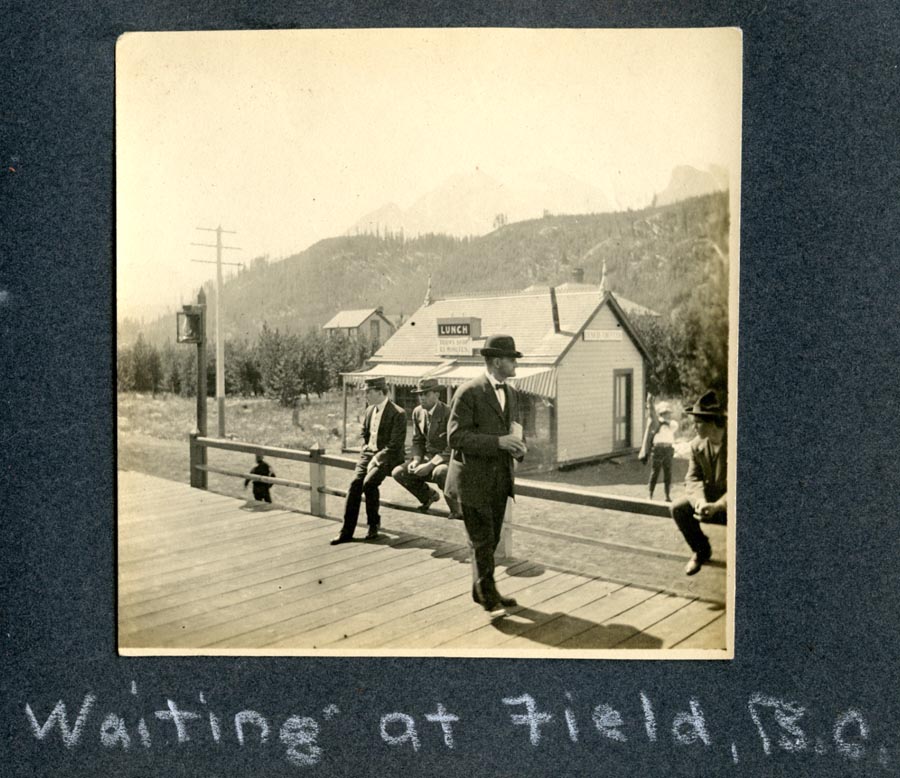 There is a bored man caught in mid step on the wooden platform, as he lopes along waiting for the train, carrying what looks like a small bag of peanuts, perhaps to help him pass the time. The people roosting on the railing are similarly occupied with anticipation. One man seems to be wearing a conductor's hat. Has he stepped off a waiting train to get a moment of sunshine, or is he waiting for the train where he will start his shift? Is he chatting with the man next to him? The sign above the simple building in the background offers "Lunch", while reassuring its prospective customers that "Trains stop 15 minutes." The man in the background at right is donning his jacket again, after presumably exiting the lunchroom's back door after having purchased and eaten a Lunch. A dark, blurred figure behind the railing at left is unidentifiable, but it appeals to my imagination as a signalman rushing to meet the train. All speculation – the generation of which is what makes this photo so interesting. I hope they eventually caught their train.
Finally, the last lonely scene in the sequence is a landscape of mountains and pines taken near Mt. Hector, still riding the Canadian Pacific line. The blank page at right signals us that the record of this trip is complete. Perhaps she was out of film, or the plains of Alberta were not as photogenic, or she simply chose to rest and recover on the way back.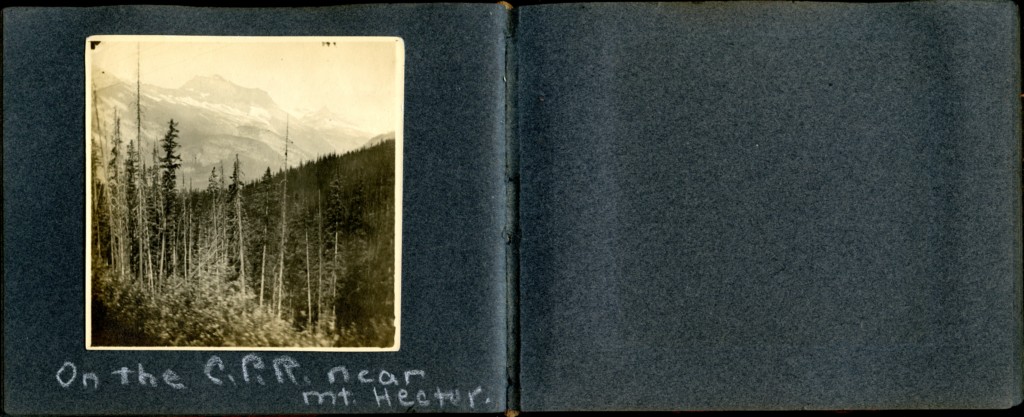 Still waiting
The remaining pages of the album (see Part 2 of this post) tell us a bit more about this adventurous person who was audacious enough in 1909 to take a trip across two relatively unsettled countries, photographing a well-selected group of scenes along the way.
They do not tell everything about her, not even her name, nor do they suggest why this album was found abandoned a hundred years later. But they do show where she worked, and a bit about some of the things she thought were important at the time, including the places she frequented and the faces of some of the coworkers she knew and held dear.
Yet somehow, this is enough, because despite the different time and circumstances, they tell us that she was much like us. Perhaps, then, it is not too much of a stretch to expect that our own photo albums have a good chance of being found, someday, for sale at an auction, having lost their original meaning — and searching for another.
NOTE: the rest of the album is explored in Waiting at Field, B.C. Part Two.
---
Article and photos Copyright 2021 by the author.